DOWNLOAD GUIDE
ShipBob & Shopify Plus: The Winning Fulfillment & Ecommerce Tech Stack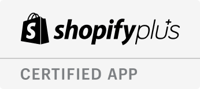 A Shopify Plus store opens up many opportunities for your business. But with opportunity comes complexity — especially in fulfillment and shipping.
Whether you keep fulfillment in-house or outsource it, you need scalability and partners that help you keep up in changing times.
As an official Shopify Plus Certified App Partner, ShipBob is the leading fulfillment solution trusted by hundreds of Shopify Plus merchants, shipping millions of orders through an extensive global fulfillment network.